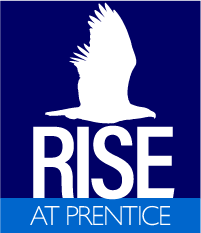 The Responsive Individualized Structured Education Program, or Rise at Prentice is a self-contained program located on Prentice's campus where students receive small group, individualized instruction by two full-time teachers and one full time Instructional Assistant. RISE is designed to meet the needs of students with low to below average cognition who benefit from a curriculum that embeds functional academic skills, life skills and social skills. Students in this class require more intensive academic and social interventions due to more complex cognitive, language, processing, and social communication deficits. Currently, this program serves no more than 20 students in grades 4-8. Admission is granted after a review of records, appropriate student meeting and/or visitation. While this is not a program for students who require individual educational aides, the teaching and instructional staff implement positive reinforcement strategies, scaffolding, and leveled groups to meet the needs of the students. Additionally, Prentice's Speech and Language Pathologist and Speech and Language Pathology Assistant push into the classroom during the week to support social learning and academic instruction.
Rise has a low student to teacher ratio, which enables small group instruction across all academics. The instruction is tailored to meet the students where they are academically and functionally with the appropriate accommodations and modifications so that each student can access the content. The overall goal of this program is to offer a learning environment where the individual student can succeed.
If you think your child is a good fit for our RISE at Prentice program, please complete our RISE at Prentice Admissions Inquiry below.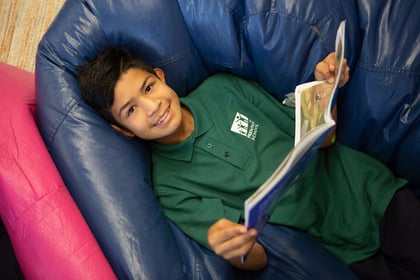 RISE students enjoy the full benefit of attending The Prentice School with a greater emphasis on functional skills and social communication skills:
- Serving a maximum of 20 students in Grades 4-8
- Two full-time teachers and one full-time Instructional Assistant
- Low Student-to-Teacher ratio
- Small group research-based Orton-Gillingham instruction
- Lindamood Bell strategies, including On Cloud 9 Visualizing and Verbalizing
- Social Learning with Prentice's Speech Language team
- Speech, language and vocabulary collaboration between classroom teacher and speech pathologist
- Full-time Marriage and Family Therapist on site
- Hands-on science program
- Physical Education
- Opportunities to mainstream socially with Prentice School Junior High classes
- Use of technology and assistive technology software (Snap and Read, Co-Writer, Speech to Text, Text to Speech)
- Functional life skills built into daily curriculum
If you feel you student would be a great fit for RISE at Prentice, please complete the Admissions Inquiry below.
If you have any questions about the program, please contact our Admissions department at (714) 244-4600.
RISE at Prentice - Admissions Inquiry